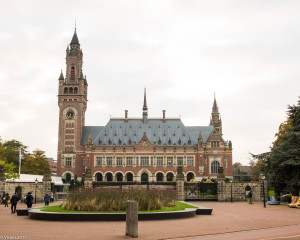 FROM 25TH TO 29TH JUNE 2017, WORLD EXPERTS GATHERED IN THE HAGUE FOR THE 12TH INTERNATIONAL CONFERENCE ON LOW VISION AND REHABILITATION. OUR NATIONAL CENTRE ATTENDED THE EVENT
Vision rehabilitation of the visually impaired is a global human right. This was the central theme of the 12th International Conference on low vision research and rehabilitation, which was inaugurated on the 25th June 2017, and continued until the 29th June, in The Hague.
LOW VISION: A DRAMATIC IMPACT ON THE QUALITY OF LIFE
A significant reduction of visual abilities has a dramatic impact on lives and the visually impaired risk encountering difficulties in all aspects of their daily routines, including serious limitations in their social life participation and interaction with others.
Low vision is often associated with depression, emotional stress and a reduced quality of life. Many visually impaired people are elderly and are generally affected by at least one illness (often chronic). "The goal of low vision rehabilitation – the organizers write – is to enhance the ability of the patient's remaining vision".
Among the participants at the Dutch event were the Department of Ophthalmology and low vision research of the VU University Medical Center of Amsterdam and a large part of the scientific academic community that operates in this field. The European Society for low vision research and rehabilitation and its Dutch branch also attended the event.
OUR NATIONAL CENTRE BETWEEN REHABILITATIVE STANDARDS AND TELEREHABILITATION
"OMS standards for visual rehabilitation: a new perspective": this is the title of the report presented by Filippo Amore, director of The National Centre of Services and Research for the Prevention of Blindness and Rehabilitation of the Visually Impaired, on 29th June, 2017. Such standards must not be considered suitable for everybody, but proportionally, for instance, according to the level of socio-economic development of a country or specific area.
Among the numerous initiatives, we recall those of June 28th, relating to the posters dedicated to "Automation, information technology and e-health." Among these, we'd like to mention the poster designed by the National Centre team, dedicated to the data collected during rehabilitation activities (over 900 patients between January 2013 and December 2016) and analyzed in an electronic format.
Valeria Silvestri (orthoptist of the National Centre) focused her attention on evaluation methods within the telerehabilitation program for the visually impaired. The National Centre has in fact started a hi-tech remote rehabilitative path thanks to which, after the start of the rehabilitative program at the Gemelli Polyclinic in Rome, patients can continue by themselves from home, by doing specific exercises on the computer. Their results are then evaluated remotely by a professional of the National Centre.
Main source: Vision2017