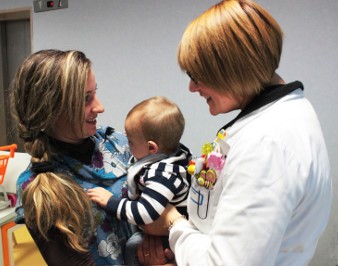 DIAGNOSTIC AND VISION REHABILITATION CENTRE
FOR CHILDREN WITH MULTISENSORY DEFICIT
(CE.DI.RI.VI.)
Appointments are scheduled at the Agostino Gemelli University Polyclinic Hospital in Rome, in cooperation with the National Centre for Vision Rehabilitation of the IAPB Italy. The service is reserved for children affected by multisensory deficits, in particular for infants aged between 0 and 3 years old
Useful phone contact: +39 06 87763115, available from Monday to Friday (8:30 a.m. to 1 p.m. CET). It will be requested to the parents to send the documents about their child specifying the pathology and the reason of the examination (e-mail: polonazionale@iapb.it). Later on they will be contacted to schedule an appointment.
Our Centre accepts children from 0 to 3 years old who have eye or brain problems, therefore even associated to other motor and sensorial deficit. The multidisciplinary team include several specialists who take care both of the diagnosis and child's rehabilitation: ophthalmologist, child neuro-psychiatrist, pediatrician, geneticist, orthoptist and neuro-psychomotility therapist.
Therefore it's possible to follow a diagnostic, assessment and rehabilitation path.
Our appointments on outpatient base (lunch is available for children who stay until afternoon).
In case of first examination, mostly for families non resident in Rome, an evaluation in more days is foreseen always in day hospital scheme (without overnight stay in the hospital).
In the diagnostic phase all professional figures before mentioned can be present; in the evaluation and the rehabilitation path the following are available: ophthalmologist (if necessary), child neuro-psychiatrist, orthoptist and neuro-psychomotility therapist.
The team is always available to welcome colleagues and teachers who follow children in the territory of residence, both during and after the examinations. When direct contact is not possible, during the examinations (with the consent of parents) some photos and videos of the activities and adviced the materials can be taken.
DIAGNOSTIC AND VISION REHABILITATION CENTRE FOR CHILDREN WITH MULTY-SENSORIAL DEFICIT (CE.DI.RI.VI.) at Polyclinic A. Gemelli, Largo Agostino Gemelli, 8 – 00168 Rome, Italy.